The Piron Brigade

Monuments and Museums
1. Normandy

| | Arromanches | Museum of Arromanches | Showcase Brigade Piron | Area dedicated to the Belgian Brigade |
| --- | --- | --- | --- | --- |
| | | | | |
| | Sallenelles | Place on the entry of the village | Memorial stone | In Memory of René DE QUEKER, Henri DUCHESNES, Edouard GERARD, Petrus HARBOORT, Julius LEYSEN and Raymond VANREMOORTELE |
| --- | --- | --- | --- | --- |
| | | Rue André-Pierre Marie | Memorial stone | Memorial stone dedicated where was killed the first Belgian : Private Edouard GERARD. |
| | | | | |
| | Ranville | Cemetery | Left side of the cemetery | Sdt Edouard Gérard's grave |
| | | Opposite the cemetery | Memorial stone on the door of the mill | In Memory of the Belgian fighters of the Piron Brigade |
| | | Church Ranville | Memorial stone in the Church | In memory of Edouard Gerard, first Belgian killed in Normandy |
| | | | | |
| | Franceville | Av. A. de Lavergne | Memorial stone | In Memory of Zenon BOON, François RAQUET, Guy PONCELET and Raymond DE RIDDER |
| | | | | |
| | Merville | Batteries de Merville | Museum | Casemate n°4 - Area dedicated to the 6th Abn Div and the Belgian Brigade |
| | | | | |
| | Le Hôme-Varaville | Place Brigade Piron | Memorial stone | Belgian Brigade's Memorial stone |
| | | | | |
| | Cabourg | Monument aux Morts | Memorial stone | Stèle en reconnaissance des libérateurs de Cabourg |
| | | | | |
| | Houlgate | Dead Monument | Memorial stone | In Memory of François BEKAERT, Marcel BETBEZE, Hyppolite DE GROOTE, Pierre GURHEM and Lucien JADON |
| | | | | |
| | Auberville | Av. Brigade Piron | Monument | Monument in honnour of the Belgian Brigade and François BEKAERT, Marcel BETBEZE, Hyppolite DE GROOTE, Pierre GURHEM, Lucien JADON and Jean-Baptiste DE BOECK |
| | | | | |
| | Blonville | Av. Brigade Piron | Memorial stone | Memorial stone to the Belgians and Luxemburgers |
| | | | | |
| | Saint-Arnoudt | Bridge on the Touques | Memorial stone | In Memory of Benjamin PINKOUS et Marcel FOURNER |
| | | | | |
| | Deauville | Front the bridge Deauville-Trouville | Memorial stone | In Memory of Marcel FOURNER and Simon ROUCHE |
| | | On the bridge | Memorial stone | Hommage to the Belgians and Luxemburgers soldiers |
| | | | | |
| | Trouville | Square Brigade Piron | Memorial stone | Square Brigade Piron, Trouville-sur-Mer city's liberator |
| | | | | |
| | Pennedepie | Cemetery | Next the Church | Private VandenAbeele's grave |
| | | | | |
| | Honfleur | Quai de la Quarantaine | Memorial stone | Memorial stone in honour of Allied soldiers |
| | | | | |
| | Conteville | Cemetery | New cemetery | Private Mouchet's grave |
| | | Next the Church | Dead Monument | Memorial stone for Francis MOUCHET |
| | | | | |
| | Pont-Audemer | Dead Monument | Memorial stone | Memorial stone to the Liberators |
| | | Mairie | | New monument |
2. Belgium
The National Monument "To the Glory of the Piron Brigade" is located in the "Parc des Muses" in Molenbeek-St-Jean (Brussels)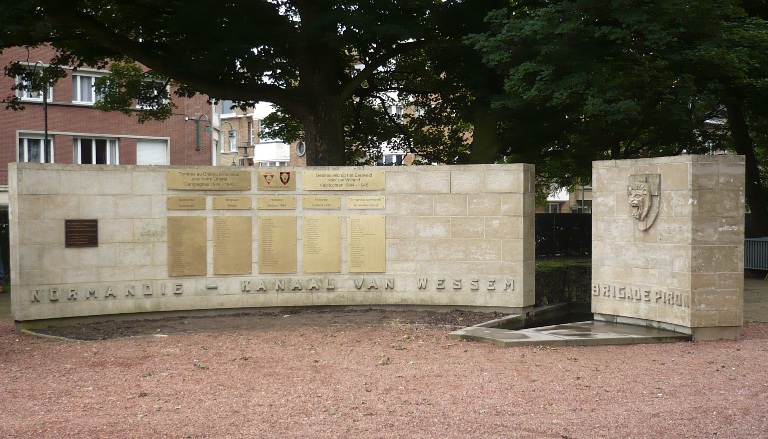 The first stone of the National Monument « To the Glory of the Piron Brigade » was raised on Saturday,  May, 9, 1964  by Mayor MACHTENS in the park "The Rose Garden" (now Parc des Muses). This Memorial was designed by the artist Paul BOEDTS, First Prize at the Academy of Fine Arts in Brussels.
The Monument was inaugurated in the presence of General Jean PIRON on Sunday September 6, 1964, during the commemorations of the XXth Anniversary of the Liberation of Brussels. A parade made up by military detachments (British, Dutch, Canadian, American, French and Luxembourg), followed by a company of the Belgian "Liberation Battalion".  The Belgian Air Force Military Band and several foreign bands accompanying the troops. Scottish soldiers with kilts and pipes so the nickel parade helmets of the US troops delight the very large crowd.
It was General PIRON unveiling the Monument a simple architecture with the quotes "Normandie" and "Kanaal van Wessem", opposed to the insignia of the Brigade. Flowers are placed by General DANLOY, representing the King, MM MACHTENS, Mayor and MOOS, President of the National Veterans of the Piron Brigade Association as well as representatives of foreign delegations.
The ceremony was enhanced by the presence of General DEROISY, representing the Ministry of Defence, the ambassadors of Israel, China Luxembourg the military attaches of Great-Britain, the Netherlands, Canada, USA, USSR, France and Czechoslovakia.
Two speeches were delivered. Mr MOOS discusses over the hours of joy of the liberation of Brussels, the end of the "endless nights of despair and humiliation". He defines the commitment of the soldiers of the Brigade "from all over the country, they were all fond of the cult of the freedom and had sworn that they would rest when they have broken the chains of ensavlement".
The Mayor M. MACHTENS said the signification of the Liberation, one of the best dates in our history. "I am proud that my city, after the General PIRON's native city was the first. When on September, 3, 1944, a Sunday afternoon, I took possession of the City Hall of Molenbeek-St-Jean, accompanied by some friends, we knew the importance of this act and how we were indebted to these men coming from England, wearing the Belgian Flag on their jackets, to be able to do…"
44 years after the inauguration, on September, 4, 2008, the Monument was decorated with engraved plates with the names of 116 victims of the Brigade.
| | Couvin | City Hall | Museum Jean-Baptiste PIRON | Exposition General Piron's objects |
| --- | --- | --- | --- | --- |
| | | | | |
| | | Place Général Piron | | Monument to Lt Gen PIRON and his Brigade |
| | | | | |
| | Beauwelz | Place St Quirin | Canon 25 pdr | |
| | | | | |
| | Orbais | Opposite the Church | | Artillery piece. |
| | | | | |
| | Rongy | Rue de la Brigade Piron | Memorial Stone | Memorial Stone for the Piron Brigade, liberator of Rongy |
| | | | | |
| | Jumet | Rue Ledoux, 23 | Memorial Stone | Memorial Stone Brigade Piron |
| | | | | |
| | Malines | Cathedral | Memorial Stone | Memorial Stone 1940-1945 Belgian Forces in United Kingdom |
| | | | | |
| | Visé | Rue de Jupille | | Memorial Stone for Pvt Guillaume DEBEFVE (2nd Unit) |
| | | | | |
| | Saint-Nicolas | H. Heimanplein | Memorial Stone | Memorial Stone to the Sint-Niklaas's veterans |
| | | | | |
| | Oostende | Cemetery | | In honour of the Piron Brigade's Members |
| | | | | |
| | Bourg-Léopold | Antwerpsesteenweg | | In Memory of Marcel BENOOT, Lucien SIMOEN, Jozef VAN OPPENS, Louis GOETZ and Carlos MARTIN, killed for the Liberation of Leopoldsburg and Heppen |
| | | | | In honour of Sgt Louis GOETZ |
| | | Barracks | Monument | Monument Belgian Forces in United Kingdom |
| | | | | |
| | Bree | Bridge between Bree and Kinrooi | Memorial Stone | Brussels Bridge. Bridge built by the Engineers Company. |
3. Holland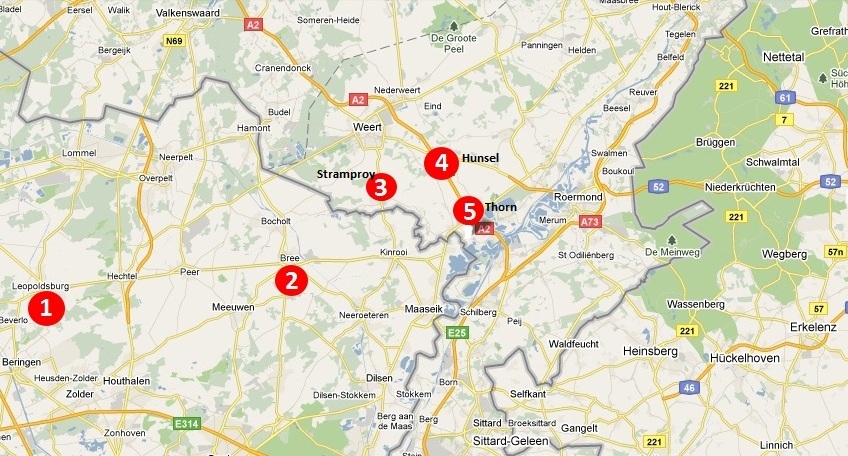 Stramproy

Julianastraat

Memorial Stone. To the Piron Brigade, liberator of Stramproy

Hunsel

Kraakstraat, 2. Opposite the City Hall

Monument

Monument Piron Brigade

Thorn

Kerkberg

Monument in honour of the 27 Belgians of the Piron Brigade killed for the Liberation of Thorn

Sprang-Capelle

Fall Braun

Memorial Stone

Memorial Stone to Joseph BIESMANS, Arthur COOPMAN, Pierre HAUZEUR, Charles MARTENS, Philippe SPETH and Jean VAN GOETHEM killed in Capelle

Leerdam

Generaal Pironstraat

Mosaïque commémorative

Ecusson de la Fédération de la Brigade Piron.

Opheusden

(Neder-Betuwe)

Burgemeester Lodderstraat

Monument in honour of the 1st Belgian Brigade
4. Luxemburg
Diekirch

National Museum of military history

10, Bamertal
L-9209 Diekirch